Admissions to showings of full-length feature films has slumped about 16 per cent in just over a period of five years. In last year, admissions to cinemas totalled 1.38 million compared to 1.65 million in 2009. Cinema guests have not been fewer since 2005. Admissions in 2014, was 1.5 per cent down compared to the previous year, or about 21 thousand guests (see figure).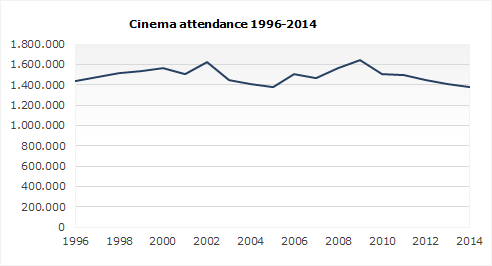 Last year's admission equals four visits per capita to the cinema. Admissions per capita are by far the highest in the capital region or 5.5 visits. In other parts of the country, where cinemas were operated in the previous year, admissions were by far the lowest in the regions of West and the Northwest, or less than one visit per a head.
Since 2009, the number of visitors to cinemas in the capital region has dropped some 249 thousand or 18 per cent.  In other parts of the country, the number of cinema spectators increased in last year about 18 thousand after almost a steady decline during the previous years.
The GBO revenue in 2014 totalled 1,487 ISK million compared to 1,530 ISK million in 2013. The share of domestic films in 2014 of GBO was 12 per cent and ten per cent share of the total admissions. US produced films had the far highest share of films from individual countries, or 84 of GBO and 82 of admissions.
In the last year 15 cinemas were operated in the country, with 41 halls. Seating capacity was 6,799 seats and the average number of showing per week was nearly 800.
Information about films and cinemas is from an annual inquiry among exhibitors and the database of film and television rights-holders in Iceland on theatrical film showings from film distributors.