Please note that this press release was corrected 20 July 2015 at 14:20

Attendance to one of every two 87 Icelandic full length-features¹ premiered and released for cinema running in the years 1996-2013 did not exceed 10,000. Average number of spectators to domestic films premiered in the years 1996-2013 was 17,406. Attendance to half of the number of films was less than 10,692. Eight films had attendance over 50,000 guests. Attendance to two films exceeded 80,000, but the film with the lowest box office attendance had less than 50 spectators.

Popularity of individual films among cinema visitors is highly uneven. Usually, one or two films concentrate most of the attendance in each year. The distribution of admissions is shown in table 1.
Table 1. Distribution of admissions to Icelandic full-length features premiered 1996-2013
Admissions
No. of films
5,000 and <
25
5,001-10,000
16
10,001-25,000
27
25,001-50,000
11
50,001 and >
8

Only sixteen films out of the 87 domestic full-length features in total which were premiered in the years 1996-2013 gained half of the admissions out of a total of 1,514,348 spectators. Nearly 90 per cent of the total admissions fell with half of the number of films (see figure 1 and figure 2).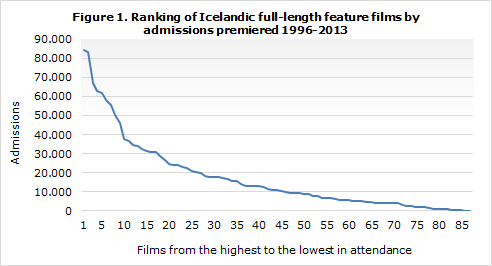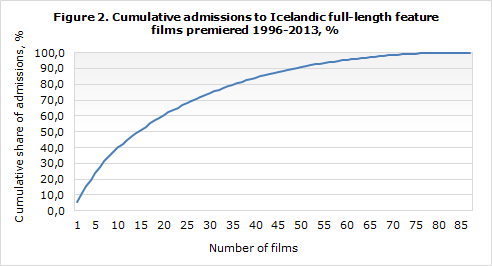 Of the top ten most popular films released 1996-2013 four were directed by Baltasar Kormákur and two were under the direction of Friðrik Þór Friðriksson. Jar City, directed by the former mentioned director, was the most highly attended film, with roughly 84,000 guests. In the second place was the Angels of the Universe, directed by Friðrik Þór Friðriksson, with nearly 83,000 guests. Only one children/family movie made it to the top ten list (see table 2).
Table 2. Top ten attended Icelandic full-length feature films premiered 1996–2013
Row
Title in English
Director's name
Year of premiere
Admissions
1
Jar City
Baltasar Kormákur
2006
84,445
2
Angels Of the Universe
Friðrik Þór Friðriksson
2000
83,317
3
Mr. Bjarnfredarson
Ragnar Bragason
2009
66,876
4
Black's Game
Óskar Þór Axelsson
2012
62,783
5
Devil's Island
Friðrik Þór Friðriksson
1996
61,971
6
The Sea
Baltasar Kormákur
2002
58,076
7
White Night Wedding
Baltasar Kormákur
2008
55,300
8
The Deep Sea
Baltasar Kormákur
2012
50,266
9
Dorks and Damsels
Gunnar B. Guðmundsson
2007
46,313
10
The Secret Spell
Bragi Þór Hinriksson
2010
37,506
Interestingly enough, nine of the top ten movies are adaptations of popular novels, plays and a TV-figure. The tenth is a retelling of a well-known historical event. For a comparison, none of the ten least attended films are adaptations or a reworking.
The most highly attended film directed by a woman was Stella Runs for Office in the direction of Guðný Halldórsdóttir, which was in twelfth place with nearly 35,000 guests.
About the data
Information about admissions to films is from an annual inquiry among exhibitors and the database of film and television rights-holders in Iceland on theatrical film showings from film distributors.
¹According to international definition, a full-length film is a film of duration of 60 minutes or more.