Statistics Iceland analyzes individual liabilities, assets and net worth derived from tax returns annually and shows an improved net worth for all family types in the year 2015. This applies especially to single parents as their net worth increased by 50% from the previous year.  Individual net worth increased by 17.1%, net worth of couples without children by 12.7% and couples with children by 27.5%. Net worth increased most for families aged 25-39 years or from 55 billion ISK to 111 billion ISK.
In total 153.084 families (76%) had positive net worth at year end 2015, increasing by 6.9% from the previous year. Families with negative net worth were in total 45.529 (22%) and decreased by 11% from the previous year.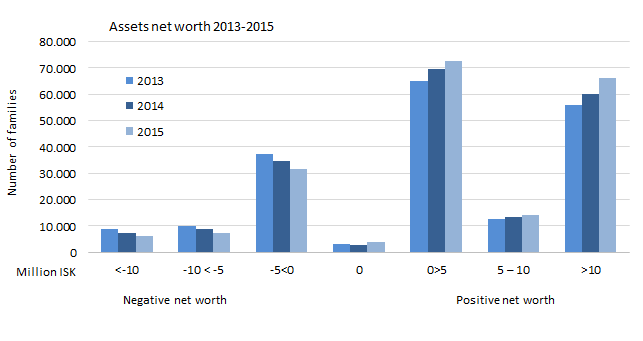 Number of families with negative net worth in real estate continue to decrease. In 2015 total 7.320 families had negative net worth in real estate or 57% fewer than the previous year and on average negative real estate net worth amounted to 4,9 m.ISK.
Assets of individuals increased by 8.5% or from 4,416 billion ISK to 4,792 billion ISK. Total liabilities of individuals at year end amounted to 1,843 billion ISK and decreased from the previous year by 2.9%. Liabilities of all family types decreased in 2015. Liabilities of couples with children decreased by 3.5% and single parents by 2.5% as well as couples without children by 3.8% and individuals by 1.2%.
Mortgages amounted to 1,215 billion ISK and decreased by 3.0% compared to last year. The decrease was for all family types and age groups, except for families aged 24 years and younger and 25-29 years which increased by 15.4% and 9.4% from the previous year.
Over one fifth of families were debt free at year end 2015. Half of indebted families owed 5.1 million ISK or less and 90% of indebted families owed 30.7 million ISK or less. The total liabilities of all families, excluding the highest 10th percentile, were 1.1 billion ISK or 60.6% of total liabilities. Families who belonged to the highest 10th percentile owed total 726 billion ISK or over 39% of total liabilities. These families were mainly couples with children (56%) and couples with no children (24%).